Conversation before the shout out
K: (Happy in her fan state of mind) "Ni-like ni Jameson yung mga banner na gawa ko."
Me: "Talaga? Maganda iyong may drawing mo as background."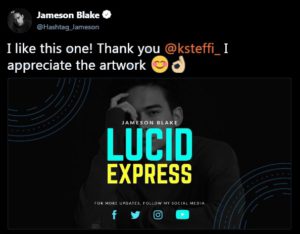 And he picked that particular banner. That was his shout out. That was his "Thank You!". She used the free app, Canva and felt proud of herself as there was not much effort from her. My daughter responded with kindness, picked a free template, added photo and edited it a little. The fan girl in her was just happy.
Next day…
I had to hug her tight and wipe her tears. I gave her back all the assurance, confidence and love that somehow, were taken away from her in an instant. A number of people started blaming her, calling her selfish, cancer, peenoise and asking her to change her mindset.
Wait, what?
1. If it was me (freelancer state of mind), I would have asked for movie tickets aside from the shout out. But then, it wasn't me.
* A little bit of info
I freelance too, though not in the art & design field. But I have colleagues and relatives that are artists and designers. My daughter knows the importance of getting paid for the services you give. Trust me, she witnessed how hard it is to get a job online, especially nowadays. Hindi lang sa specific na industry ito nangyayari.
2. If K asked for a payment na baka para sa iba ay sobra naman for the basic banner made using Canva app, maba-bash pa rin sya, right? Baka sabihan pa rin sya na "kahihiyan sa industriya", "mayabang na wala pang napapatunayan", or "kapal ng mukha na maningil, Canva lang ginamit."
3. If I did tell my daughter of no.1, she would give me an "AHA! moment look" that means, "Oo nga 'no? Pero, kakatapos lang kasi ng birthday nya. Gift ko na 'yun. Masaya na nga ako nung ni-like nya, lalo nung napili nya yung isa. Kung gamitin nya yung banner, parang birthday gift na din 'yun sa akin. Bonus na lang yung shout out, nothing bad with it."
4. There is a Twitter feature called "Direct Message", you all know that. Do you actually know what happened behind the public tweets? Do you know what transpired through direct messaging?
Having given you all these points, I don't get the point of these people na magagaling calling my daughter a cancer in the art industry. She only responded to a tweet with kindness. And, to that person who actually questioned why the artist's mom is still proud, I really wish you become a parent yourself, because then, you will understand.
As for Jameson Blake, correcting him properly is enough. He apologized for the shout out offer. He apologized and clarified his statement regarding graphic designers. Stop the hate. Stop the ugly memes. Those who used their time, talent and effort making these memes to make fun of Jameson Blake – his mistake has earned you likes and followers. Happy now?
We all had moments of "That is not what I mean" and "I did not mean to offend you". If there is someone out there who did not or have not experienced these moments, it is about time to log off and take time to self-evaluate. How is your relationship with everyone around you going? Maybe it is time to really connect and communicate, openly and calmly. Through that way of expression and evaluation, I am sure there will be so much realization. I hope each of it is beautiful.
Let me borrow that ripple-effect mentioned at the heat of the argument, it does come in… because, if you fill your heart with positiveness, the same people around you smile and get that vibe you bring. I tell you, it will surely grow and go back at you. We all just got to learn to listen, and understand. So, if needed and truly necessary, respond with kindness.