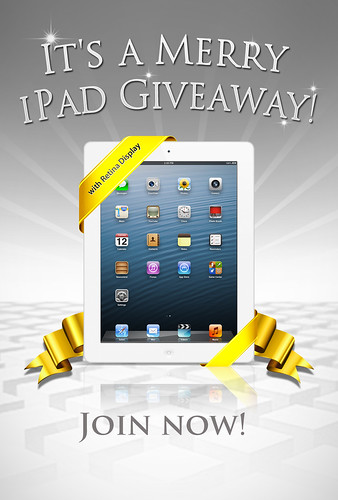 Your one rare chance to get an iPad – for free! Click above banner to join!
Win a brand new 16GB Apple iPad with Retina display (winner"s choice of black or white) with a price tag of $499!
—-
Duration: This giveaway will run from today, Sunday, December 2 until Sunday, December 30. Join here now!
Eligibility: Giveaway open to everyone – worldwide – one winner will receive an iPad with retina display, or the cash equivalent of $499 via paypal per preference! The winner's name will be displayed on this post after the giveaway ends.
Brought to you by:
Eatables, Explorations, Expeditions | Healthy Vain | Fancy Expeditions | Papers, Bills and Coins | Che Wanders | My Kids… Their Journey | | Fashion Is My Passion | Late Bloomer Blog | Simplelize Tech Blog | Tech Crash | | Complete Personal Finance | Our Travels | Pets and Us | Vienna and Beyond |
Disclosure: Apple is not a sponsor to this giveaway.