A lot of Filipinos can name their list of favorite Filipino Christmas foods, but these two tops our own. As soon as September starts, you will spot few food vendors offering both Bibingka and Puto Bumbong. That brings you the Christmas feels already because at that same time of the year, Christmas songs are played in radio stations too! We all know how long the Christmas celebration is in the Philippines, right? Yes, it is being celebrated until Epiphany, the feast of the three wise men.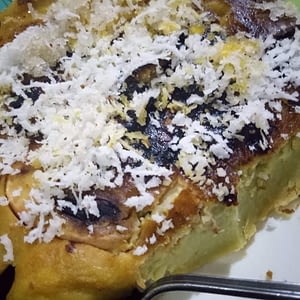 Bibingka is included in the Top 10 Filipino Christmas Recipes by Panlasang Pinoy. It is rice cake that is made made from milled glutinous rice, sugar, coconut milk, and margarine. There is a special variation that has salted egg slices in it and topped with  shredded coconut and margarine. Bibingka with salted egg is my personal favorite. If you want to learn how to make this, here is a Bibingka recipe from Panlasang Pinoy.  Vanjo Merano, the man behind Panlasang Pinoy also has his YouTube channel where he share his "cooking" videos. I have tried this particular recipe (in half) and I think my girls like it. Yeah, I think.
Puto Bumbong on the other hand, is in the 12 Must-try Classic Christmas Foods in the Philippines by SkyScanner. I am sure that if you ask many Filipinos what their favorite Christmas foods are, Puto Bumbong is in their list. Their list may include the famous Embutido, Lechon, Kesong Puti, Crispy Pata, Menudo, Buko Pandan dessert and a lot more.
These are sold almost everywhere. One will never miss a vendor outside the Church before and after each night Misa De Gallo is celebrated. Besides these two, our family is excited, as always, to every Christmas lunch besides the actual Noche Buena. I will also post as to why.